I took most of last week off after having a very productive weekend. I figured I had all the miles I needed at the moment and focused my efforts on redemption ideas (the AAdvantage devaluation is happening tomorrow, so you might want to explore your options as well). My sister has been working hard in school and wanted to go someplace relaxing for spring break. Initially, I had a trip to New York planned, but then I made a last minute change and booked a week at the Hyatt Ziva Los Cabos instead. If this interests you, stay tuned for a post on how to find cheap rates when rooms aren't available on points. After booking this trip, I decided to earn those miles back. The vicious cycle continues…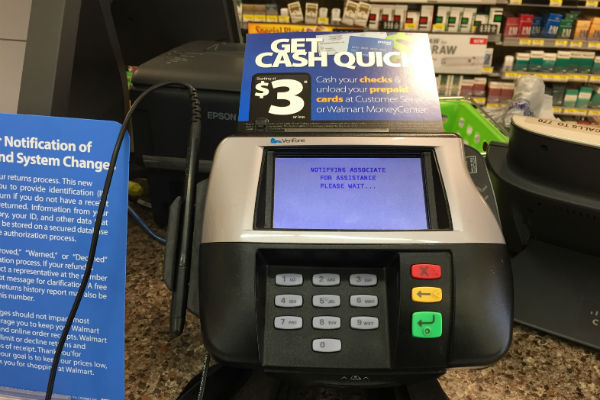 I got a late start this week but did manage to buy and unload $40,000 worth of gift cards. Nowadays, I have a nice and short manufactured spending route down. It allows me to unload at least $10,000 per day easily. I did run into a few small issues.
The rep at my local Walmart, whom I thought I'd buttered up the previous week by entertaining her conversation about Youtube covers of popular songs, suddenly acted like she'd never seen me before. She even asked to see my cards! And when I showed them to her, she became uneasy and said, "I'm not accusing you of anything, but there are people out there who buy prepaid cards with other people's credit cards. So that's what goes through my head when I see these cards". She still let me proceed with the transaction. I think it helped when I pulled out a couple of gift cards that actually had my name on them. This was really the only hiccup I encountered, which was amazing considering the much higher number I was able to churn out that week.
Next, I sent my brother to go buy some gift cards at a local mall and for the third time in a row, his Arrival card was declined (even after he called ahead to tell them he was making a large purchase). Once again, he had to resort to his Starwood Preferred Guest credit card. On one hand, it's great that his SPG account balance will go up by almost 30,000 points this month – on the other hand, we'd like to avoid an Amex financial review, so these large purchases can't happen regularly.
For the most part, I've been taking advantage of iConsumer's 1.5% cash back offer at Giftcards.com. This eliminates pretty much all gift card churning fees. Plus, I don't have to make an extra stop on my route. So I've been using this offer to generate some (close to free) miles on my Alaska and Discover It Miles cards. As well as a few other cards belonging to close family members.
It's been pretty frustrating to place these small orders, which is why I've been using Arrival for larger purchases. The card has a higher credit limit and I like seeing large amounts of miles post within days of purchasing gift cards. Plus, the card earns the equivalent of 2.1% cash back, which helps off-set the gift card fees. I have a cousin who's just starting to build her credit and when she booked a trip to Europe for the summer, I offered up my Arrival card. She paid me back in cash and I was able to pay the card off and cash out my Arrival miles at a good rate. Other than this, I like to use my Arrival Miles for heavily discounted hotel stays and airfare.
I do enjoy the trips to my local mall – despite how much I despise malls to begin with. There's always lots of parking near the customer service entrance and the reps I interact with are just the best. They're always super friendly and supportive of the hobby. They've gotten into the habit of sending me off with jelly beans and chocolate gifted to them by their corporate clients. Apparently, some of their gamer customers (their terminology, not mine) aren't very nice. So when I come in without a chip on my shoulder and ask about their day, they appreciate it. So be nice to people – it goes a long way in making things pleasant for everyone.
That pretty much wraps up my week. Other than the fact that I finally bought a money order at the post office, nothing out of the ordinary happened. I probably won't make it a habit, since they cost more than Walmart money orders at $1.25 per $500. It's still nice to know there's a back-up in case I ever need it.
How was your week in manufactured spending?
Subscribe to Blog via Email